Marina Hanayo
[[|250px]]


Name

Marina Hanayo

Gender

Female

Occupation

Mermaid

Type

Main Protagonist

Height

1,45 m

Friends

Birth

September 15 1999

Relatives

Voiced by

Kathy Erison
Marina is a mermaid and the tritagonist in the series. Marina used to live in a house under the ocean, and sits on a rock during the day. But in Season 2, she decided to build a giant sand house on the island, and invited her underwater friends to her house, away from the coast of the island. Her enemy is The Manic Mermaid (character).
She is very sweet and childlike in nature. She is constantly hunted by Zig who desires to eat her. Her bodyguard/best friend Sharko, however is always there to ruin his plans. She seems blissfully unaware of Zigs intentions, as she is generally friendly whenever she sees him. She is a very good singer, but Sharko doesn't like to hear her.[1][2] She often plays volleyball or table-tennis with Sharko. Sharko isn't the only person seeking her affections. King Neptune also loves her, and tries to buy her affection with lavish gifts. A giant male manta ray tried to woo her in the episode, "The Challengers".
Although normally kind-hearted, Marina can be somewhat selfish at times, and cries when she doesn't get her way. She's also shown to have a temper when pushed to her limits.
Marina loves to try new things, and is always dabbling in different areas throughout the show. She has tried her hand at nursing (Nurse Marina), being a flight stewardess (Mermaid in the sky), and a lifeguard (Save the hyena!).
Nonetheless, Marina is compassionate, polite, and willing to do anything to help her friends in need.
Family Members
Edit
Unnamed Sailor Father
Unnamed Mermaid Mother
Zig (best friends - or at least she thinks so)
Bernie (best friend) (One Time her pet)
Sharko (bodyguard/best friend )
Marina is tanned, with dark red hair, and a green mermaid tail. She wears a green bra and a yellow starfish in her hair.
She lost her mermaid tail in the episode (Fancy Footwork).
Marina and Ketta were friends and love interest to there own friends.
She can walk on her tail, as if they were legs.
It's unknown what happened to her parents. The sailor usually marries the mermaid. Also unknown what happened to him and his wife.
References
Edit
↑ Except in the episode ''Marina Superstar'' (S1E66), in her concert.
↑

Marina's singing can be very dangerous, as seen in other episodes, for instance ''Cruising'' (S01E09) and ''War of the Clones'' (S01E61). Sharko knows apparently this fat: she is a mermaid after all! Also if innocent.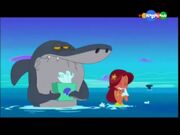 Information about Marina
Edit
Full Name: Marine Hanayo
Gender: Female
Occupation: Mermaid
Relatives: Unnamed Sailor Father, Unnamed Mermaid Mother
Interests: Reading fairy-tales and shopping at malls, having fun
Birth: September 15 1999
Allies: Zig (sometimes), Bernie (sometimes), Sharko, her parents, Jamie, Penny the Mermaid, Thyka, Amanda Fitzgerald, other sea people and mermaids (except the Manic Mermaid)
Enemies: The Manic Mermaid (character)
Home: Undersea (in Season 1), Desert Island (in Season 2)
Age: 13
Voice: Kathy Erison
Ad blocker interference detected!
Wikia is a free-to-use site that makes money from advertising. We have a modified experience for viewers using ad blockers

Wikia is not accessible if you've made further modifications. Remove the custom ad blocker rule(s) and the page will load as expected.